Supporting Ohio's precast concrete industry since 1996
Ohio Precast Concrete Association -
6870 Licking Valley Rd., Frazeysburg, OH 43822​
- info@ohioprecast.org
937.540-2444
Officers & Trustees

President: Dean Wolosiansky
Vice President: Alex Lendrum
Secretary / Treasurer: Jesse Wingert
Producer Trustee: Dan Zerbe
Trustee at Large: Dominic Dowell
Associate Trustee: Floyd Crooks
Past President: Mike Foust
Technical Consultant: Sam Lines

watch our video
in recognition of our 25th year of incorporation - 6/11/21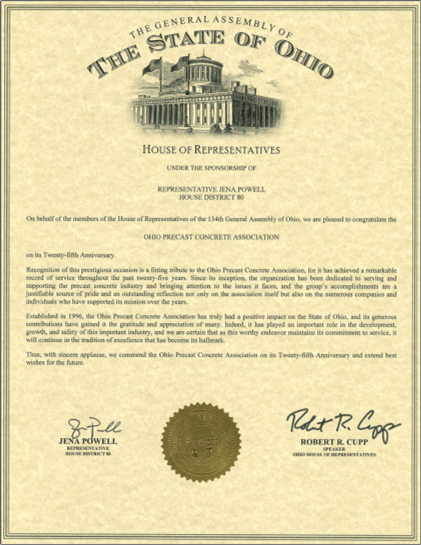 Our Purpose
The Ohio Precast Concrete Association (OPCA) is a group of producer members and associated industries cooperating together as an association. The intent is to bring pertinent issues and information that impact the Precast Concrete Industry to the attention of government agencies which participate in the origination of these issues.
The OPCA is interested in assisting these agencies by providing expert advice and counsel in the development of regulations involving the industry and the general public.
The OPCA producer and associate members' products and services range from the construction of buildings and highways to the manufacture of precast concrete products for utilities, rainwater runoff management, and treatment of commercial & residential waste water. The OPCA member products and services affect the lives of nearly every Ohioan on a daily basis.
Some specific areas of interest being pursued by the OPCA are as follows:
Monitoring sewage guidelines relating to the specific construction and operation of home waste water treatment products (septic tanks, aerators, etc.) by the Ohio Department of Health and the Ohio EPA.


The introduction of programs and policies relating to the testing of materials and products being used on Ohio Department of Transportation projects.


The development of quality control procedures and inspections services training by the Ohio Department of Transportation.


The Ohio Precast Concrete Association will be expanding its scope of interest as membership roles grow and diversify. The need for input, regarding issues and regulations which affect the large segment of the public which it serves, comes to the forefront
.
Three committees are accepting OPCA Member participants: Education Task Group, Constituent Relationships (ODOT, ODH, BWC, etc.), and Membership Growth & Engagement. Interested members should contact an OPCA Board member or send an email message to info@ohioprecast.org.